We're all pretty familiar with Three Blind Mice, or at least we think we are. We sing this little ditty in elementary school and it's largely a play song for children.
Three blind mice.
Three blind mice.
See how they run.
See how they run.
They all ran after the farmer's wife,
Who cut off their tails with a carving knife,
Did you ever see such a sight in your life,
As three blind mice?
But the original version is far stranger…
Three Blinde Mice,
Three Blinde Mice,
Dame Iulian,
Dame Iulian,
the Miller and his merry olde Wife,
she scrapte her tripe licke thou the knife.
Believed to have been written (not merely collected) by Thomas Ravenscroft, it was published in his 1609 Deuteromelia or The Seconde part of Musicks melodie.
TRIPE SCRAPING! KNIFE LICKING! This stuff is MADNESS!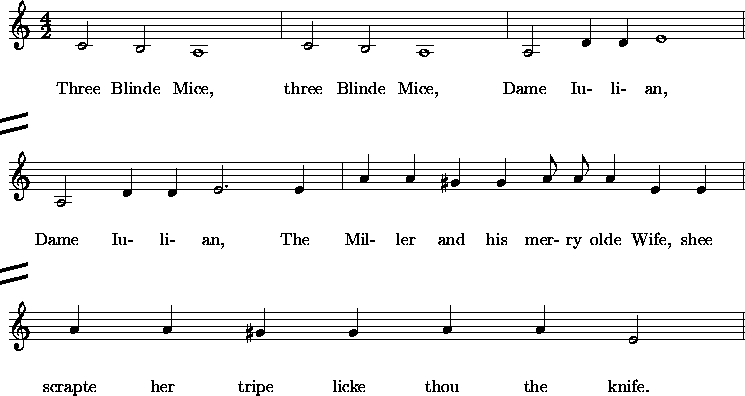 I've done quick recordings to illustrate the sound difference. First, here is the modern one:
Three Blind Mice – Modern Version
And here is the Ravenscroft version (which I've come to like better! It must be the tripe scraping. Must be.)
Three Blind Mice – 1609 Ravenscroft Version